Carseldine Urban Village – The Green
Maximum sporting performance with minimal environmental impact
Balancing high performance with minimal environmental impact was a challenge we, at Sylvania Schréder, welcomed. At the heart of Carseldine Urban Village is 'The Green'. Featuring a range of sporting fields, play areas, and exercise equipment, The Green offers individuals, friends, and families a fun and safe area to enjoy. The tennis courts are a core component to The Green and offers a place for everyone, from beginners to athletes, to train in a sophisticated sporting setting.
While sporting performance was a critical component to the overall lighting design, ensuring lighting pollution was minimised to maintain residents' comfort was a priority. Incorporating SMART lighting technology offered a sustainable lighting solution that was bright enough to ensure athletes' safety and performance were not impacted, while also limiting light spill to accommodate local residents.
Partner(s)
Ashburner Francis Pty Ltd
E-Switch
Application(s)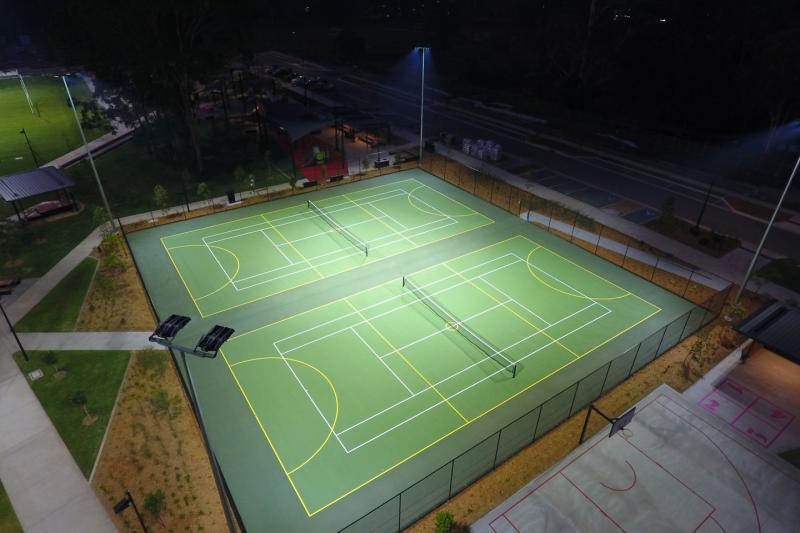 Lighting up courts, not homes
Green areas and exercise facilities are vital to support the needs of the local community. Empowering residents to access facilities even when it's dark ensures a healthy, connected, and lively community all year round. By incorporating sustainable lighting design that catered to the demands of not only the residents but also the sport, it struck a healthy balance between providing exciting facilities with residential requirement needs. Now, all residents and community members can access the tennis courts without any negative impact on the surrounding environment.
Reducing light spill, while maintaining sporting performance, was the primary aim of the project. As a result, Sylvania Schréder selected the RAPTOR flat-glass LED flood lights. These high-performing lights limit light spill and glare while ensuring high visibility and comfort for players and surrounding homes. Additionally, these flood lights are designed to prevent upward light which can cause sky glow. This ensures that not only are residents protected from light trespass, but so is the surrounding flora and fauna. While lighting design should cater to community needs, it is also critical that it does not impact the natural environment.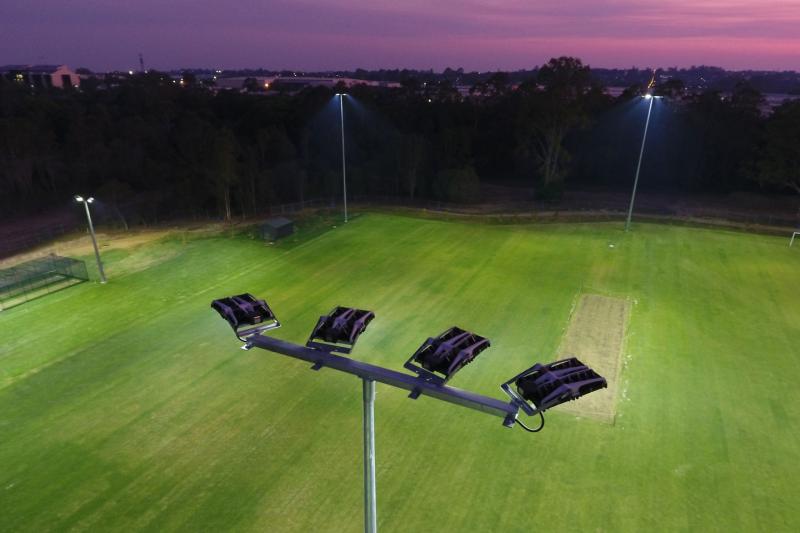 Innovation, performance, sustainability
A focus on innovation and sustainability, in all forms, was a major guiding principle of the project. Light spill isn't the only key consideration when designing an outdoor residential project. Ensuring the lighting system is easy-to-use and manageable is imperative to helping protect the local residents. It is also important in empowering the community to utilise the facilities, when applicable.
Incorporating an e-switch, which is linked to a web-based application and booking system, enables greater control over the lighting system. When the lights turn on and off, how long they stay on for, and who can control them is now made simpler. The implementation of this SMART technology minimises the amount of time the lights are on and ensures they are not left on after curfew. Residents can sleep easy knowing light won't be impeding their night-time activities and schedules.
The Green is a story of lighting success. We have successfully balanced the needs of the community with maintaining sporting performance through our intelligent and innovative lighting design. By incorporating SMART lighting solutions with high-performance products, we have maintained the quality of life for Carseldine Urban Village residents while ensuring the safety of those who use the tennis facilities. A positive outcome for all involved.
Awards and commendations
Carseldine Urban Village is not only a symbol of how high-performance can combine with everyday living seamlessly, but it has also been recognised as an outstanding lighting design.
At Sylvania Schréder, we are proud of the efforts of Toby Murdoch and the Ashburner Francis Brisbane team for winning the 'Award of Commendation' at the recent Queensland IES Awards Dinner. Their efforts and innovative thinking have ensured this project is a success and a beacon of pride for the local community. A further congratulations must be extended to E-Switch, who supplied the sports lighting control materials that was required to help balance the needs of the community with the needs of the athletes. Without the collaborative and pioneering efforts of everyone involved, we wouldn't have been able to complete this project to the high standards we, at Sylvania Schréder, set ourselves.