A time-saving, versatile and high-performing street lighting solution
Description
IZYLUM is a range of robust yet compact outdoor LED luminaires, designed with a focus on easy installation and maintenance.
Based on Schréders proven track record in road and urban LED lighting, the IZYLUM luminaires benefit from numerous innovations to provide the ultimate experience for municipalities, utilities, contractors and citizens.
Available in various sizes with a LED count of 10 to 240 LEDs, IZYLUM provides a well-dimensioned, efficient outdoor lighting solution ranging for various low-height applications such as parks, bicycle paths or residential streets to main roads and boulevards.
This connected-ready luminaire offers a realistic platform for smart cities. Its' lightweight optimised design minimises the carbon footprint at every stage of the product lifecycle. IZYLUM stands out as the best in class for a circular economy.
The luminaire can be opened without any tools thanks to two stainless steel spring clamps. A clear, loud clicking sound confirms that the luminaire is closed.
The new patented IzyHub connection and connectivity module enables installers to save time and to prevent any mistakes when cabling. With the levers pulled up, cables are easy to insert into the indicated position. Then the levers can be pushed back down to secure the electrical connection.
Thanks to the IzyFix universal mounting part, the luminaire can be installed vertically on the spigot for a post-top mounting to facilitate the operation (no cantilevered weight). Then, it can be tilted to the right angle. The IzyFix system enables switching from one position to another at any time, without removing the luminaire from the pole.
IzyFix enables settings for side-entry and post-top mounting over a range of 130 degrees (5-degree steps). The indication angle on the IzyFix mounting part enables the correct tilting position to be set before final tightening.
Tool-free and error-proof connection and connectivity
For easy installation, maintenance and upgrades, IZYLUM features the patented IzyHub connection and connectivity module. The IzyHub combines all the connections to distribute power and control commands to the gears and electrical accessories of the luminaire.
To meet all requests and remain future proof, various models of IzyHub are available, with or without a built-in certified surge protection device (SPD).
IzyHub enables an easy connection and failure-free replacement of components in the gear compartment, whether it is for maintenance or a luminaire upgrade.
A new generation of photometrical engines
IZYLUM introduces a new generation of photometrical engines developed around performance, compactness, versatility and a platform philosophy.
LensoFlex®4 is the fourth generation of the proven Schréder LensoFlex® concept based on high-power LEDs to meet the lighting requirements of road and urban applications while maximising energy savings.
Designed to provide the same luminaire footprint, the new MidFlex™2 proposes an alternative platform for those looking for a mid-power LED solution to accelerate their return on investment.
Best-in-class for a circular economy
IZYLUM stands out as the best in class for a circular economy as the strict Circle Light Label assessment on 12 criteria demonstrates. The IZYLUM circular score is remarkable, not only due to its high efficiency but also because of 6 circular features:
- robust mechanical structure enabling high IP and IK ratings
- fully recyclable materials
- less than 5 steps for complete disassembly
- tool free opening of the gear compartment for easy maintenance,
- versatile connectivity with standard sockets and
- 25-year product life expectancy.
A Zhaga-D4i certified range of luminaires
As a founding member of the Zhaga consortium, Schréder has participated in the creation of Zhaga-D4i certification program and the initiative of this group to standardise an interoperable ecosystem. The D4i specifications take the best of the standard DALI2 protocol and adapt it to an intra-luminaire environment.
As Zhaga-D4i certified luminaires, the IZYLUM range complies with all the criteria including mechanical fit, digital communication, data reporting and power requirements within a single luminaire, ensuring plug-and-play interoperability of luminaires and peripherals such as connectivity nodes.
The IZYLUM luminaires can include two sockets allowing, for instance, the combination of a presence sensor and a control node.
Characteristics
General Information
Recommended installation height (m)
Electrical information
Electrical class
Nominal voltage
Socket option(s)
Associated control system(s)
Sensor(s)
Performance
Luminaire output flux (lm)
Luminaire efficacy - up to (lm/W)
Optical information
Colour rendering index (CRI)
Upward Light Output Ratio (ULOR)
ULR
Housing and finish
Optic
Tightness level
Impact resistance
Lifetime
All configurations
Operating conditions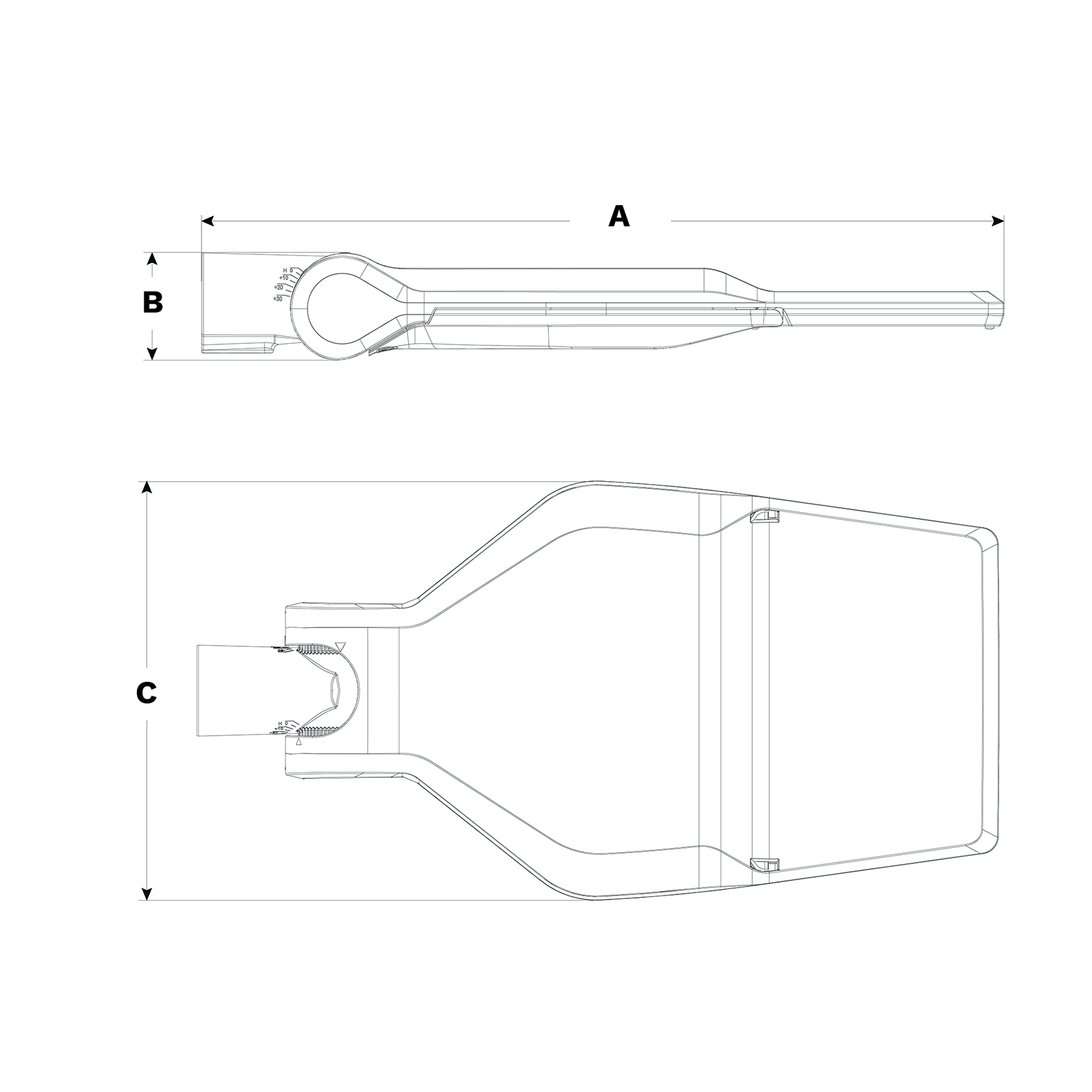 Dimensions and mounting
AxBxC (mm | inch)
IZYLUM 1 - 587x94x294 | 23.1x3.7x11.6
IZYLUM 2 - 604x94x352 | 23.8x3.7x13.9
IZYLUM 3 - 715x94x368 | 28.1x3.7x14.5
IZYLUM 4 - 873x94x390 | 34.4x3.7x15.4
IZYLUM 5 - 873x94x390 | 34.4x3.7x15.4
Mounting possibilities
Side-entry slip-over – Ø48mm
Side-entry slip-over – Ø60mm
Post-top slip-over – Ø76mm
Post-top slip-over – Ø32mm
Post-top slip-over – Ø48mm
Side-entry slip-over – Ø32mm
Side-entry slip-over – Ø42mm
Post-top slip-over – Ø60mm
Control systems
A connected-ready solution
The IZYLUM street luminaires are available with the following control/dimming options:
• Bi-power
• AMPDIM
• Custom dimming profile
• 1 - 10V
• DALI
• Remote management

As an option, this outdoor LED luminaire can be equipped with standard NEMA 7-pin or low-voltage sockets, enabling easy access to the digital era of lighting with advanced lighting features that plan, monitor and control outdoor lighting networks.
Installation and Maintenance
IzyFix: the most versatile mounting
IZYLUM is available with the IzyFix universal fixation adapted to post-top and side-entry mounting on any spigot (Ø32mm, Ø42-48mm, Ø60mm and Ø76mm).
Thanks to a tilting range of 130°, IzyFix enables switching from one position to another at any time, without removing the luminaire from the pole.
This unique feature eases installation and offers complete versatility for pole and bracket configurations.
Poles and Brackets
KEMA range of dedicated brackets
Designed to be combined with the IZYLUM luminaires, the KEMA range of brackets offers a modern and elegant design to upgrade your lighting furniture.
This family of brackets made of die-cast aluminium adapts to your landscape by offering multiple variants (single or double).