Robust and highly reliable LED bulkhead  
Description
The TERRALUME is the latest offer from Sylvania Schréder to provide safe, sustainable, and reliable solutions in harsh industrial environments.
Sylvania Schréder's local knowledge and manufacturing expertise combined with an integrated global network have combined to create the TERRALUME, a highly efficient luminaire for walkways, conveyors, and tunnels.
The latest in efficient optical design allows for spacings of up to 18m to achieve > 40 lux average on walkways and conveyors. Featuring several different optics combined with the latest in efficient LEDs and driver technology, the TERRALUME can also safely illuminate stairs and walkways at an ultra-low power of 18W.
Our in-house research, development, and lighting design teams have designed a product that ensures mechanical and thermal integrity in harsh conditions whilst providing energy savings through the use of advanced luminaire optical and electrical design and efficient lighting layouts.
The TERRALUME is suitable for use in various environments, which include outdoor mining areas, food and beverage plants, manufacturing process plants and any application that requires robust and well-built luminaires.
Optimal photometric performance
The TERRALUME offers optimal photometric performance and high reliability to reduce energy consumption and maintenance in a variety of lighting applications
High pressure diecast aluminium body with corrosion resistant treatment
Ingress and mechanical protection
IP66 gear and lens enclosure for protection against dust and water ingress. IK10 body and hight impact polycarbonate visor for protection against mechanical impact
Energy efficient
High grade PMMA lens design for durability and efficiency
Multiple optics to ensure efficient illumination of specific task requirements
Chromated high pressure diecast aluminium for superior corrosion resistance
Passes 1000hr salt spray test
IK10 High Impact Polycarbonate visor
IP66 Optical and gear chamber
Stainless Steel fasteners
Toolless entry
Integrated Emergency with plug and play LiFEPO4 battery pack for ease of maintenance
Suitable for high ambient temperatures of up to 50°C
Wide operation voltage range of 100-277V AC 50/60Hz
10kV surge protector for additional protection from supply transients and surges
Turtle friendly amber option
Low dust accumulation design
Characteristics
General Information
Recommended installation height (m)
Electrical information
Electrical class
Nominal voltage
Optical information
LED colour temperature
Colour rendering index (CRI)
Upward Light Output Ratio (ULOR)
Housing and finish
Housing
Pressure diecast low copper content aluminium
Optic
Protector
High Impact UV Stabilised Polycarbonate visor
Finish
Chromate conversion with UV resistant polyester powdercoat
Standard colour
Tightness level
Impact resistance
Lifetime
All configurations
Operating conditions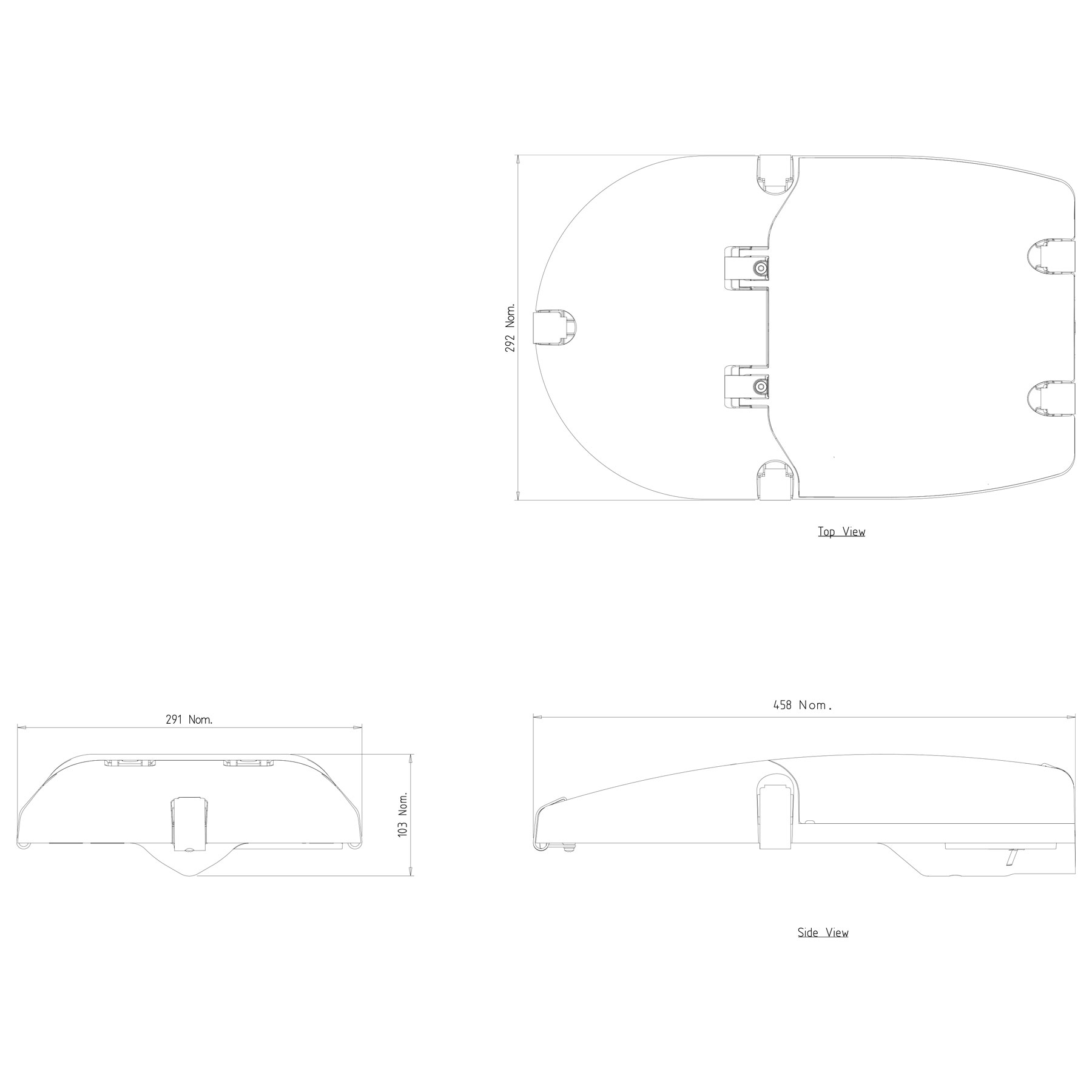 Dimensions and mounting
AxBxC (mm | inch)
Standard – 458 x 292 x 101
Emergency – 458 x 292 x 101
Mounting possibilities
Side-entry penetrating – 28mm to 34mm
Control systems
Control options for Sylvania TERRALUME
The following dimming and control options are possible for the Sylvania TERRALUME outdoor LED luminaire:
Custom dimming
1 - 10V
DALI
Remote management
As an option, the luminaire can be equipped with a 7-pin NEMA and Zhaga socket to be connected-ready for your future smart control requirements